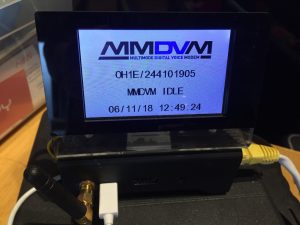 Created this page https://riku.titanix.net/wordpress/dmr/mmdvm-ber-error-rate-tuning/
there is explained how to tune bit rate error to lowest possible.
Radioddity on julkaissut uusi firmware radioon GD77
Uudessa firmwaressa ei ole mitään ihmeitä tapahtunut. lainaus niiden changelokista:
Firmware V3.1.8
1: Solve DTMF decoding issue–the other channel number cannot be decoded after the DTMF in Double Standby (Double Single)
2: Add ANI display
Ei kannata kiirehtiä päivityksessä:) Kyselin mitä ANI display tarkoittaa, niin:
sain vastauksen "ANI displays the number of the calling party to the call center agent" eli tarkoittaa jotain ID näyttöön liittyvää jostai ryhmä keskustelusta.. Kokeilun jälkeen mitään näkyvää ei ollut..

Firmwaren saa kuitenkin ladattua GD77 ohjesivulta https://riku.titanix.net/wordpress/dmr/radioddity-gd-77/
Linkki facebookkiin, josta porukka juttelee: https://web.facebook.com/radioddity/photos/a.272143659551951/1554744251291879/?type=3&theater